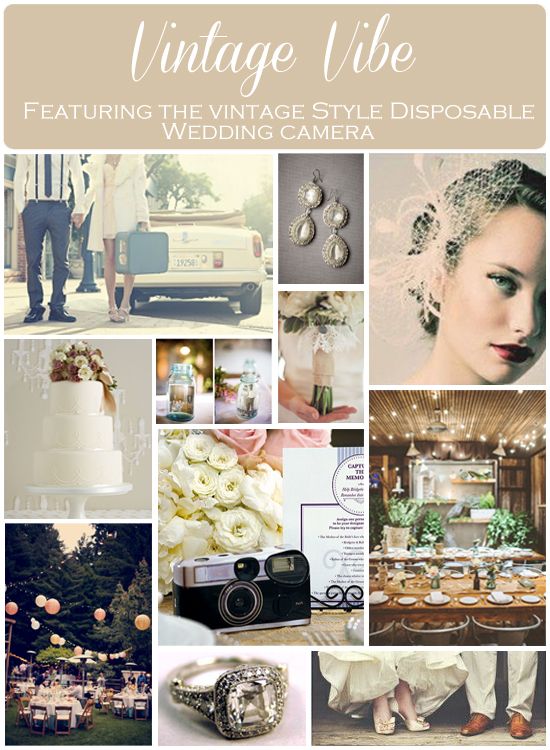 Nothing says your love is timeless like incorporating a vintage vibe into your wedding design. What a beautiful notion to carry throughout your big day; better yet capture that notion with our Vintage Style Disposable Wedding Cameras. A disposable camera with a sophisticated twist, it's ideal to give your guest to capture that elegant vintage affair.
A vintage vibe is nothing without a combination of polished floral displays, soft colors, and smooth, flowing fabrics. Incorporate colors like cream, grey, champagne, soft peach and pink to inspire a dreamy atmosphere. Simple rustic accents such as mason jars or moon glass vases with light color flowers can beautifully compliment your wedding. There are many different types of vintage weddings, so try focusing on a certain era or decade to keep your wedding plans and decorations cohesive. Start out by choosing a color scheme and blend your personality into your wedding.
Make sure to dress the part. There are plenty of different types of vintage wedding gowns that you should have no problem trying to find. Find a dress that fits the tone of your desired vintage era. An intricate beaded dress would fit nicely with a 1920s-30s theme while a glamorous silk creation goes great with a 1950s theme. The most popular eras to style a vintage wedding around seem to be twenties and fifties, but why not break the mold? The world is your oyster!
Photos from left to right starting from top: My Wedding Reception Ideas, Earrings, Hairpiece, Cake, Lace bouquet, Ruffled Blog.com, Vintage Style Disposable Camera, Style Me Pretty Photo, Paper Antler Photography, Ring