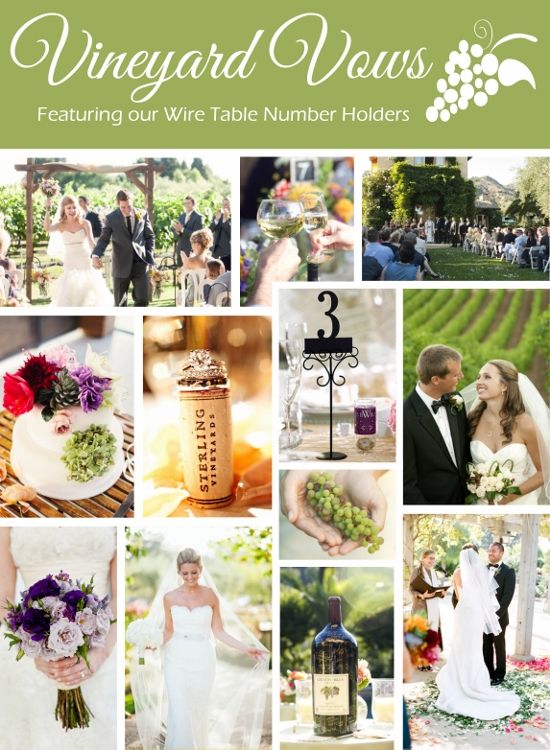 Vineyard weddings are simply romantic and timeless. With so many different locations to choose from, winery's can easily provide the picturesque and unique setting that you are looking for.
Casual and elegant, vineyards can host a wide range of decor. In terms of color, pastels are perfect for spring and summer, whereas deep tones are more suited for fall and winter. Purple is a great accent to green and seen a lot in vineyard weddings!
Table decor can be simple or glamorous. It depends on what kind of style you prefer and the look of the vineyard. Some may be more rustic while others more modern and chic. Our wire table number holders can go either way and mesh well with the theme, resembling the curviness of grapevines.
Wine is definitely a fun theme to work around. Get creative with your invitations, photographs of the rings, and wine bottles at the reception. A great idea is to set aside a wine bottle for all of your guests to sign and then save the bottle for one of your anniversary's. You can also ask the bartenders to save all of the corks from the wedding reception and make a cork monogram!
You can easily plan the wedding of your dreams with this classic setting. With so many different options and details to consider, you can create a vineyard wedding that is unique to your taste. Happy planning!
Images (clockwise from top left): Style Me Pretty, Style Me Pretty, Style Me Pretty, Style Me Pretty, Style Me Pretty, Style Me Pretty, Style Me Pretty, Ruffled, Ruffled, Tumblr, Gracious Bridal, Style Me Pretty