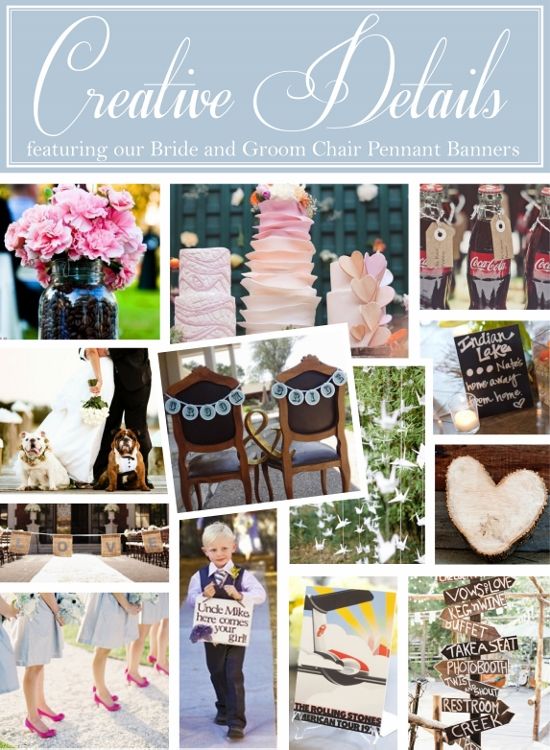 The trick to planning a truly unique wedding is finding a way to share your story with your guests. From all of the experiences that your have shared together, what are your favorite memories? How did you meet? When did you "know" that they were the one? What hobbies and passions do you share? How would you describe you and your fiancé as a couple?
As you answer these questions and discover what defines your relationship, let your story inspire the planning of your wedding. After all, aren't weddings all about celebrating your love for each other? Share that special bond with your friends and family. Creative details are a great way to personalize your wedding and make it truly unique.
Themes and decorations are key to sharing your story and personalizing your wedding. Whether its incorporating your pets into the ceremony, designing unique floral arrangements, or adding elements that signify something about your relationship, the creative opportunities are endless.
We love the idea of adding a fun fact to each table at your reception. This can be a little tidbit of information about the bride or groom, or your relationship in general. Maybe it's a fact about where and how you met, or about the places that you have been together.
Creative details can even be as simple as colorful bridesmaid shoes or signs that explain the layout of your wedding reception. Our
Bride and Groom Chair Pennant Banners
are a unique way to designate the bride and groom's chairs.
Every little detail is about making your wedding a unique experience that showcases you and your fiancé's personalities and relationship. Have fun and get creative when it comes to planning your wedding!
Images (clockwise from top left): Emmaline Bride, Style Me Pretty, Ruffled, Every Last Detail, Ruffled, Ruffled, Style Me Pretty, Tumblr, Style Me Pretty, Style Me Pretty, Bridal Guide, Gracious Bridal, Style Me Pretty