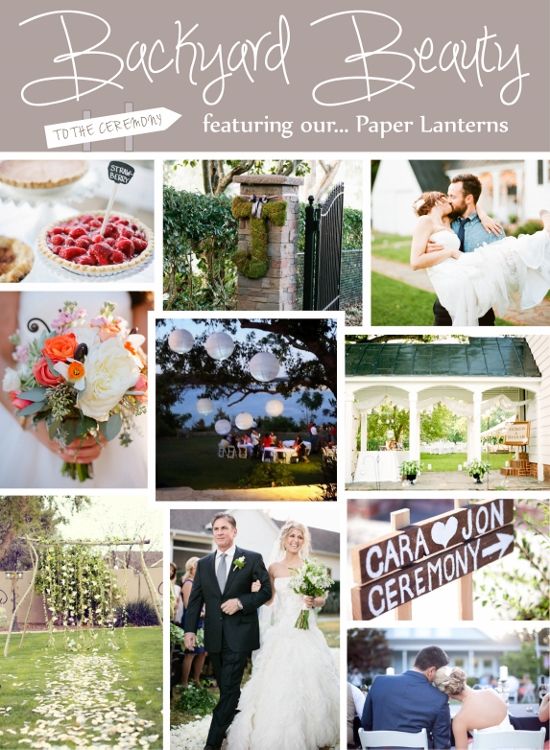 Would you consider your own backyard for your wedding ceremony or reception? A backyard can be a charming and sentimental setting for your ceremony, reception, or both! Remember the beautiful wedding reception in Father of the Bride? Find yourself a wedding planner like Franck and your set!
Of course, there are plenty of factors to consider when planning a backyard wedding. Make sure to think about the size of your backyard and your guest list, unpredictable weather, uneven ground, and facilities. You want to make sure that you can accommodate all of your guests comfortably and that you are prepared for the worst when it comes to weather at an outdoor wedding or reception.
Even though there is a lot to consider, don't let the logistics scare you out of planning an incredible backyard wedding. Find the right people to help and don't worry! The rewards of a personal backyard wedding will make it all worth it.
You can have fun with DIY's and play up the homey feeling of this location. Our paper lanterns, hung among your trees, will provide the perfect ambiance and simple decor for a backyard wedding. Whether you decide to keep it simple with rustic ideas or go all out with a tent and lavish decor, the sentimental factor of this location will make your wedding an event that your family will always remember.
"Home sweet home" is what this setting is all about. Picture yourself as the bride-to-be getting ready in your childhood room, awestruck at your reflection in the mirror. What could be more charming than a setting already filled with warm memories? With a little planning and creativity, your backyard wedding will be an unforgettable experience.