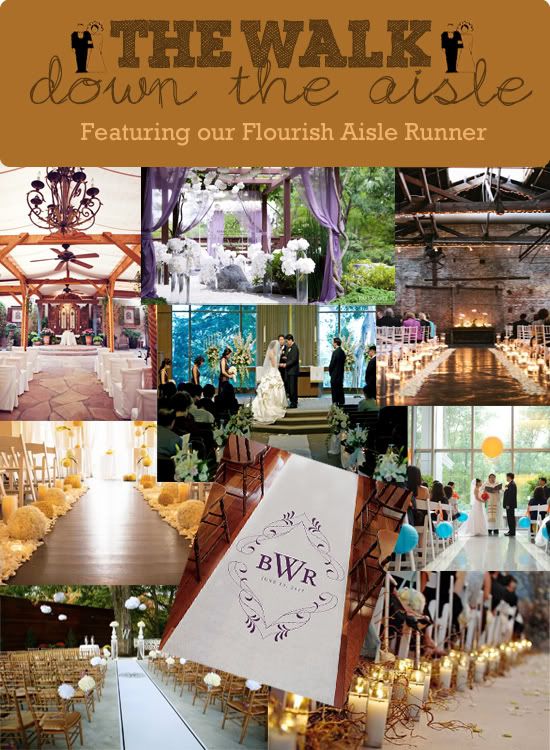 The way you choose to decorate your ceremony is crucial. This is the place where your soon to be husband will get the first glimpse of your dress and where you will exchange your eternal vows. Having the perfect environment for your aisle and alter requires some customization and a few fancy touches.
Accompanied by your father or loved one, the walk down the aisle should be unforgettable. Lately, we have seen the trend of many brides customizing their aisles, even if the ceremony is in a traditional venue like a church.
It's important to remember that creating the perfect environment will take some planning. Not all venues are candle friendly, clear up this detail before spending money or basing your ceremony decor around them. Also, to streamline your walk consider our Flourish Monogrammed Aisle Runner. This runner is beautiful and personalized, not much more you can ask for when it comes to aisle decor. Also, it won't snag or tear, making your walk a breeze.
If you're going to go with an aisle runner choose chair decorations. You can hang paper lanterns, paper decorations, or even kissing balls. You don't want to distract too much from the alter and you want to make it accessible for your guests to get to their seats.
If an aisle runner won't match your vision you are still left with dozens of choices. Candles, lanterns, clear vases, flower petals, and mason jar arrangements to name a few. These typically create a warmer environment making your walk cozier and more intimate.
Don't forget that the walk down the aisle is something you will cherish forever. Plan and choose wisely! Good luck!