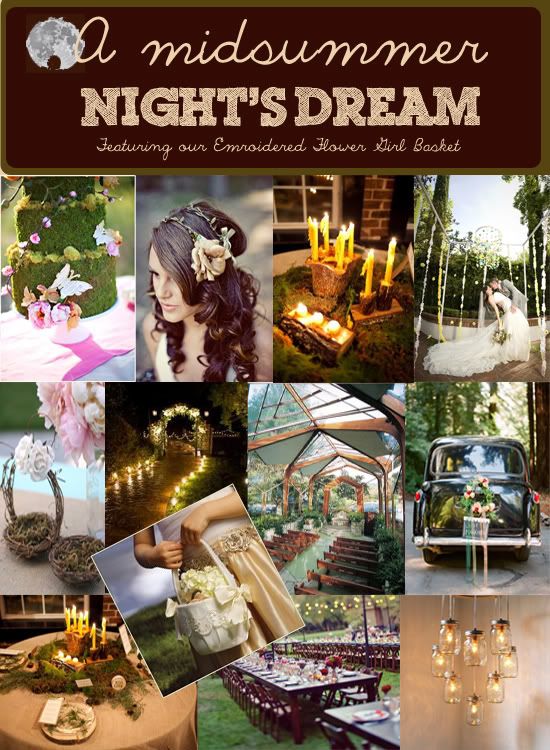 Every bride hopes she can turn her wedding dreams and fantasies into a reality by the time her wedding day arrives. However, others are opting to make their wedding day one of fantasy and marvel. Based off of the play, "A Midsummer Night's Dream", these ethereal weddings are fanciful, charming, and exquisitely unique. You may even find yourself falling for the delicate details that make this style wedding so beautiful.
When done right, weddings based off fictional plays, novels, and movies can turn out striking. The trick is to choose three elements from your inspiration and translate them into real life and if need be, tone them down a bit. No need for silly outfits or fairy wings, save the creativity for your decor and embellishments.
A key element to a wedding of this sort is to uphold the sense of forest fantasy and feminine gracefulness from ceremony to reception. Flowers will play a large role in this. Instead of the traditional rose, look to other options; peonies, dahlias, and of course, plenty of foliage (moss is a hit!). If you are feeling especially daring, look to include mini pinecones in the midst of your foliage, this will give your wedding the authentic "walk through the forest" feel.
Committing to a theme like this means covering all the stops. Don't forget to include your flower girl in this as well. Our embroidered flower girl basket is just enough ivory satin to make you swoon and blend seamlessly into your decor. Adorn her with a flowery head piece and she will look picture perfect!
It may seem daunting and possibly cheesy to draw inspiration from novels and movies, here at Gracious Bridal, say otherwise. It is very easy to be classy and translate your vision into a tasteful and breathtaking event. We hope we have given you some ideas and eased the stresses of planning a wedding! Remember, enjoy this, have fun!
Images from clockwise: Pretty Little Weddings, Wedding Bee, Elizabeth Anne Designs, One Wed, The A Listers, Etsy, Paratinovia,
Elizabeth Anne Designs, Etsy, Wedding by Design, Gracious Bridal, Wedding Bee