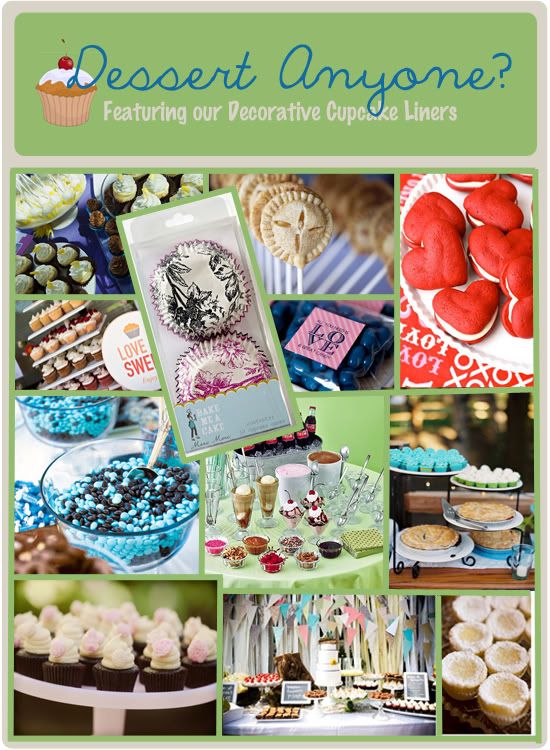 One of the most exciting parts of planning a reception is the food! From appetizers to entrees to dessert, the bride has free reign to choose her favorite dishes and treats. Dessert is especially customized to the bride's sweet tooth with so many options from cakes to candy!
Most brides take the traditional route, serving a slice of their wedding cake for dessert. While this tradition is classic and timeless, others may want to spice things up a bit. Dessert tables are ideal for this. Dessert tables can range from small baked treats, to a miniature ice cream sundae station and even a layout of delectable candies!
If you decide that your dessert table will be filled with baked treats there are some important things to remember. First, establish three main desserts you would like to incorporate. Maybe whoopie pies, tarts, or even cupcakes adorned with our Decorative Cupcake Liners. These liners will add that extra punch to tie together your table to your decor. Don't forget each guest will probably be eating between 2-3 desserts so plan accordingly!
We see more and more brides including quaint and quirky dessert tables revolving around the childhood classic, ice cream sundaes! For this consider having about 5-6 different toppings, keeping in mind of nut allergies and different personal tastes. Stick to the classic vanilla, chocolate, and strawberry ice cream flavors. If you are feeling extra sweet, include soda and glasses that match your decor for those who enjoy a nice coke float!
Having a candy bar for a dessert table can be quite fun for the bride to plan. Including 10-12 different candies from Hershey Kisses to jelly beans in various sized glass jars will add a great level of visual appeal and interest. Think about including two of the following candy categories: chocolate, gummy candy, hard candies, and salty sweet candy.
Dessert is one of the most anticipated parts of the wedding reception menu. Having a large quantity of sweets to choose from under an umbrella of different categories is the best path to take. With all these tasty options you will surely have all your guests going back for seconds!