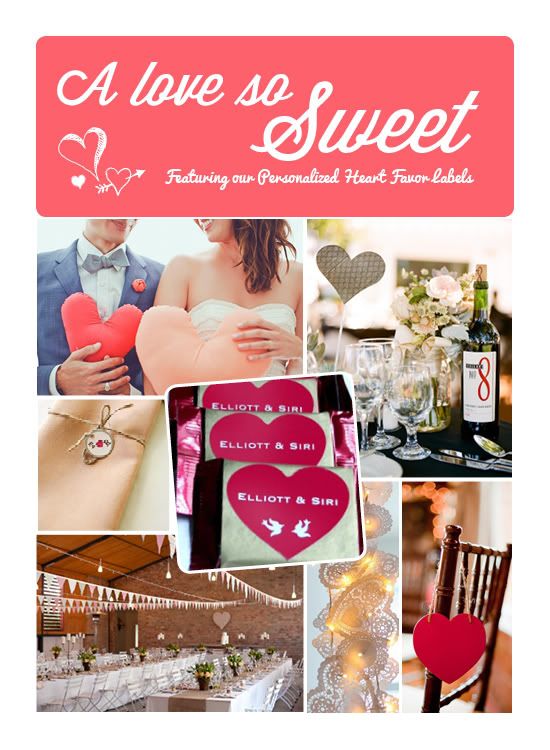 It doesn't need to be Valentine's day to have a heart-filled reception! As a bride, you have total control over your wedding theme and are free to show the love as much as you choose!
Incorporating hearts throughout your reception is a cute and easy way to add tons life and make your guests say "Aww" at every turn. It's not only adorable, but also works as an inexpensive way to design your wedding and add pops of color! With a little time, and some help from your maids, most of these projects you can easily tackle at home!
Ever thought of decorating with doilies?! We have the perfect solution to make string lights interesting, without having to fork over a ton of money. Weave your string lights through paper doilies to create an effortless and cute look. Use more or less doilies depending on how bold you want your lighting to be.
Another simple and pretty DIY project? Create your own paper hearts using colorful and thick card stock. This project lets you be in total control because it allows you to choose whichever color you decide and create hearts in an array of sizes. Once you've created your lovely hearts, simply punch two holes at the top and weave twine through to create a simple heart hanging. Voila! You now have beautiful hearts that you can hang wherever you choose, and your guests will never know how little you spent!
While we're on the topic of hearts, today's featured product is our Personalized Heart Favor Labels. These simple labels make a huge impact on your guests and will mesh beautifully with all the hearts you've created. You can personally design your heart label with 16 different colors to choose from and even have the option to upload a photo to your label!
Enjoy creating a wedding that's not for the faint of heart, ladies!