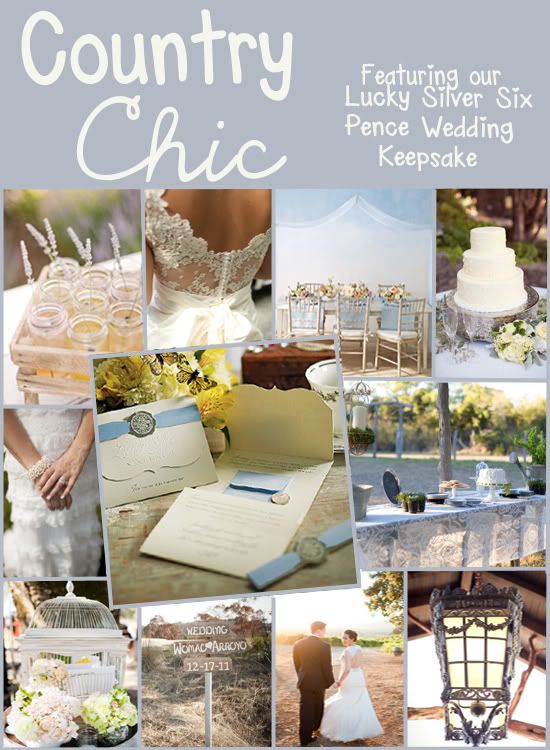 Nothing says timeless summer wedding quite like an outdoor venue with soft, country inspired, feminine touches.
Your dream of a country chic wedding can be easily reached while maintaining the detailed traditions that brides hold so close to their hearts.
Preserving the traits of a classic country wedding while adding a chic and sophisticated edge is not as difficult as it may seem. Charming and delicate details like iron bird cages as a reception guest card holder are a perfect compliment to a picnic table adorned with trinkets and earthy floral arrangements. What is so appealing about these country chic weddings is their ability to incorporate two different styles into one beautiful event, just look at how endearing the mason jars look on a chic lace table cloth.
One trouble you may face in the planning process of a country chic wedding is being able to uphold the traditions that make a wedding such a classic event. With our Lucky Silver Sixpence Keepsake the old adage of "Something old, something new, something borrowed, and something blue" will hold its own! This beautiful silver sixpence, a sign of good luck on a wedding day, is the perfect wedding token or gift to your bridesmaids to make your event unforgettable and uniquely yours.
Hopefully we have been able to put your worries at ease about planning a wedding with such great detail and tradition! Remember, this is your day, enjoy it and the beautiful summer weather!