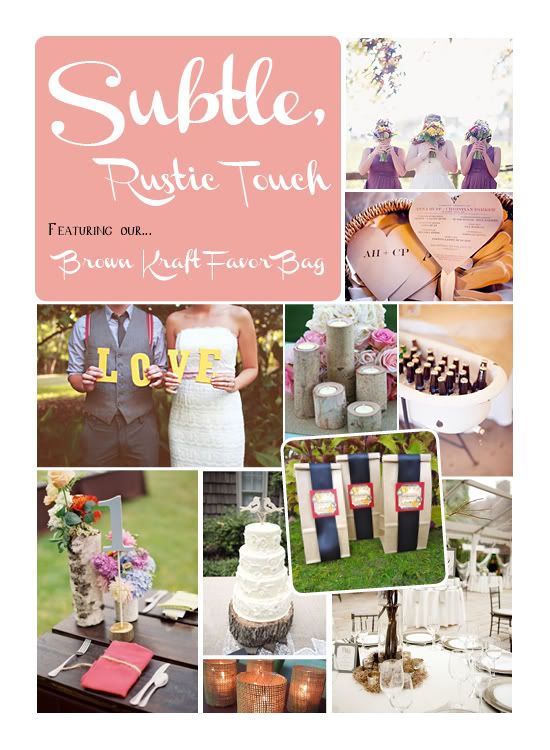 So you'd like to have a rustic wedding but don't want to compromise that upscale feel you've been dreaming of? No problem! With just the right touches of class mixed with your rustic vibe, you will easily impressing your guests.
The best thing about choosing an over-all theme for your wedding day is that it makes the planning process easier and the finished product more cohesive. If you can narrow down what it is you like (in this case we've chosen rustic) it will speed along the whole design process and make for easy decision-making. Do you already have a theme in mind? If so, try brainstorming neat ideas for the reception area while incorporating your ideas. What are the quintessential thoughts you have about your theme? When we think of a rustic wedding here at Gracious Bridal, we can't help but picture yards and yards of burlap! What ever theme you have chosen you will easily be able to incorporate it on your wedding day. The hardest part is choosing!
We love the concept of making your own unique table numbers. It's a great way to personalize each table and make your guests feel special even if they are far from the bridal party. To achieve this look, check out your local hardware store for wooden numbers. Or if your hubby-to-be is handy with a jigsaw, this could be a way for him to add to the design process. The best part of this DIY project? You are completely in charge of the style and color.
Our Brown Kraft Favor Bags are the perfect touch for your reception. These bags make for a stunning display and will catch the eyes of your guests. Our bags are grease proof, making them ideal for coffee beans, cookies and any other treat you choose to send your friends home with. They are an amazing favor that create an upscale feel with a subtle, rustic touch your guests will love.
Ultimately, there is no right or wrong theme to choose. It's up to you and your honey to decide how you'd like to spend your wedding day. The most important thing to remember, however, is that if you pick a theme, stick with it!