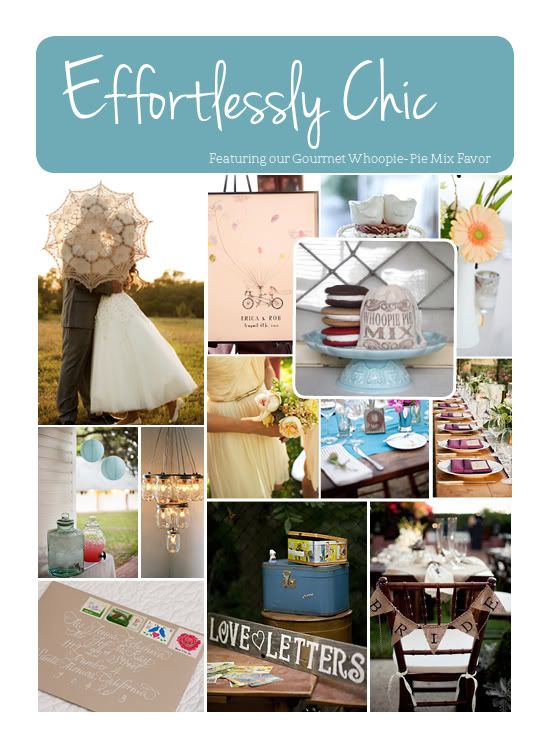 Planning your wedding doesn't have to be stressful! Spring and Summer are coming up and there is no better time than now to get a few last minute ideas for your outdoor fête. We are completely inspired and dying over chic wedding accessories and accents that you can easily incorporate into your big day. Not only are they excellent ways to bring a personal touch to your reception, but also they are so pretty your guests can't help but admire.
Today's featured item is our
Gourmet Whoopie-Pie Mix Favor
. This tasty treat comes in two flavors: Ginger spice and rich chocolate for your chocolate fiends (yes, please!). These favors are delicious and are packaged in a beautiful rustic, yet chic bag. They are the perfect touch of nostalgia to add to any wedding.
If you are continuing with the rustic, yet chic style throughout your wedding try coming up with a simple and pretty table setting. Will the majority of your wedding be spent outdoors? Crystal touches look amazing against a setting sun and easily achieve an intimate feel. A great way to marry the rustic look in your wedding is to incorporate burlap touches wherever you can. Simple ways to do this are to tie burlap strings to your menu, make a burlap table runner, or create banners lining the backs of your chairs. They are so personal and look beautiful.
Want to put a spin on an old idea? Instead of having a traditional guestbook, try coming up with your own idea that represents you and your honey. Do you collect vintage postcards? Use them as notes guests can write marriage advice on. How about an activity your guests can participate in during their festivities? Set up a canvas and ink where your guests can "print" their names. This modern take on the traditional guestbook is a great way for your guests to feel remembered on your wedding day, and an excellent way for you to showcase your appreciation of friends and family on such an important day in your life.
Images (clockwise from top):
Style Me Pretty
,
Martha Stewart
,
Project Wedding
,
Style Me Pretty
,
Style Me Pretty
,
Pinterest
,
Martha Stewart
,
Project Wedding
,
Style Me Pretty
,
Project Wedding
,
Style Me Pretty
,
Gracious Bridal