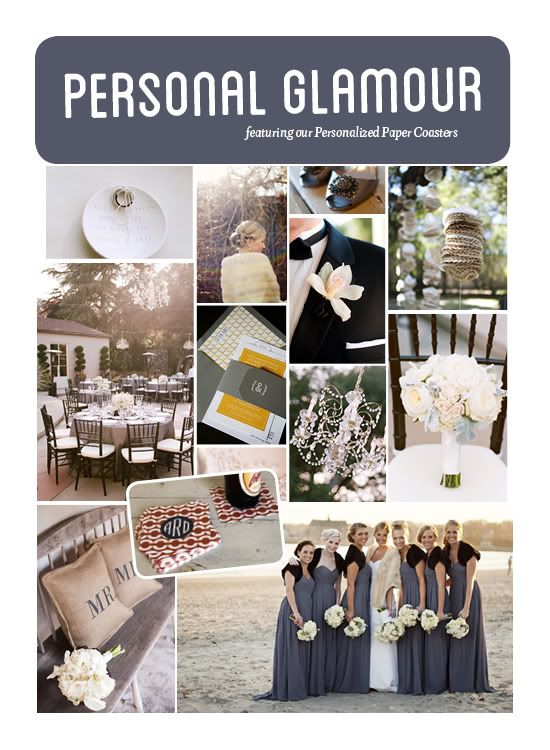 Are you a glamorous bride? Inspired by the art deco type in todays featured product, we at Gracious Bridal have dreamt an inspiration board fit for the vintage-inspired couple. This eclectic, and artistic design style allows you to incorporate elegance into your wedding while staying modern.
If you want to integrate the deco style throughout your wedding, first start with your invitations. Try using a bold type reminiscent of the 1920's. Your invitation will set the mood for your guests, and give them a sneak peek of what's to come!
If it's an outdoor wedding, try finding jewel encrusted chandeliers or soft lanterns. We love the idea of creating an outdoor space that is so pretty, your guests might forget they are in fact outside. Bring the elegance of a ballroom to the outdoors, you will be proud of your finished product (your reception!) and your guests will be ogling over the detail and glamour of it all.
A deep grey accent contrasting with stark-white is the perfect way to make a statement with color. It captures an old-world atmosphere that, undeniably, looks stylish and sleek. Our personalized paper coasters are a fantastic gift for your guests as they depart. Not only are they practical, but they serve as a memory, the elegant evening they shared with you and your sweetheart.
We suggest getting inspiration from your favorite black and white movies to achieve this look. Do you have a favorite actress of the period? Research her style. There are endless ways to capture a vintage look and stay timeless. The days of true hollywood glamour might be over, but who's to say you can't recreate it on your wedding day?
Images (clockwise from top): Martha Stewart, Pinterest, Style Me Pretty, Style Me Pretty, Style Me Pretty, Pinterest, Pinterest, Pinterest, Pinterest, Gracious Bridal, Style Me Pretty