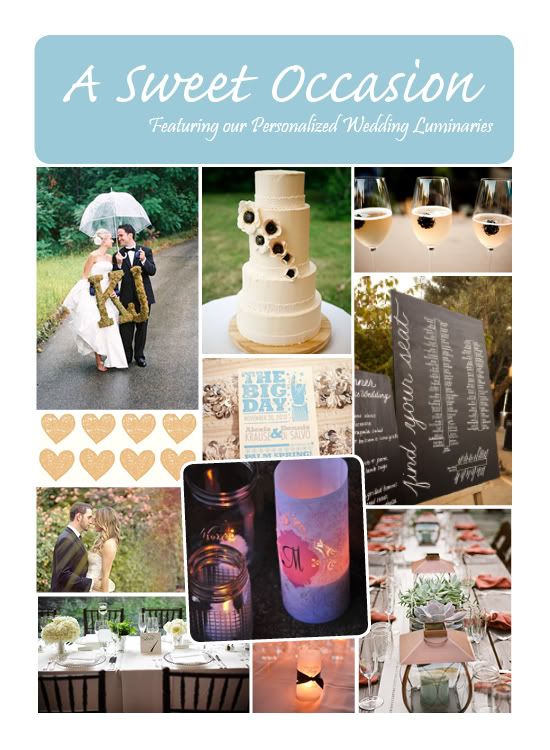 The best way to achieve the sweetest of weddings is to keep it simple and stay true to yourself! Some of our favorite weddings are the ones that are intimate, relaxed and calm. No matter how many guests you invite, you can still achieve this look, and feeling, on your wedding day.
A great place to start is with your decor. Simple table runners, muted colors, and light flowers are a beautiful way to be chic and relaxed all at once. Today's featured item is our Personalized Wedding Luminaries. They are the perfect touch to add to your tables. Ranging in multiple colors and designs, they capture an intimate feeling, and are a personal addition to your tables.
Speaking of tables, it's easy to get overwhelmed when making seating charts and deciding how and where to put your guests. We love the idea of having a chalkboard set up where guests can find their seats easily. Ask a friend with great handwriting to help you with this project, it will make for an easy, elegant and dollar-friendly DIY project!
It can be stressful thinking about guests, money, and the overall style you'd like to achieve for your wedding day. Our main goal at Gracious Bridal is to inspire brides, offer advice, and help relieve any stress you might have by delivering gorgeous products.
Images (clockwise from top): Project Wedding, Martha Stewart, Style Me Pretty, Style Me Pretty, Pinterest, Project Wedding, Pinterest, Style Me Pretty, Pinterest, Pinterest, Gracious Bridal