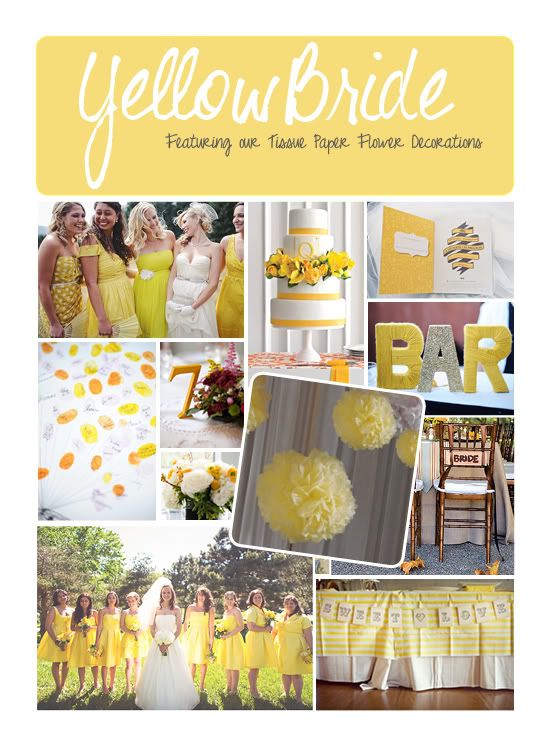 It's amazing how a little yellow can brighten up your day! Although today is Valentine's Day and the internet is screaming red and pink and hearts everywhere, we decided to inspire you ladies with something a little brighter. What's our favorite thing about yellow, you ask? Just look at our inspiration board! The vibrant color just grabs your eye. Yellow is great because there are so many hues to play with, each representing something different.
If you're considering yellow for your big day, try choosing a hue that will be easy to reproduce throughout. If you have a favorite yellow flower, pull from that. If you find a gorgeous yellow bridesmaids dress, use that color as your base. Finding a color is simple, narrowing down all of your ideas is the difficult part!
Todays featured item is our Tissue Paper Flower Decorations. Not only do they come in the color yellow, but they also are a beautiful statement piece in your ceremony or reception. They are such a simple and elegant way to spice up an outdoor venue.
Need ideas to marry your yellow theme cohesively? Starting with your invitations, set the "yellow" mood. At the reception, yellow table numbers ranging in different styles are a great way to be eclectic, yet stay with your theme. Need a cute idea? If you're having an outdoor afternoon wedding, your guests would love (and appreciate!) yellow sunglasses waiting for them at their place setting. Not only will this be fun for pictures, but it's something your guests can take home with them and use again.
Alright ladies, now you may return to the red and pink and hearts for today. Hope your Valentine's day is as beautiful as you are!