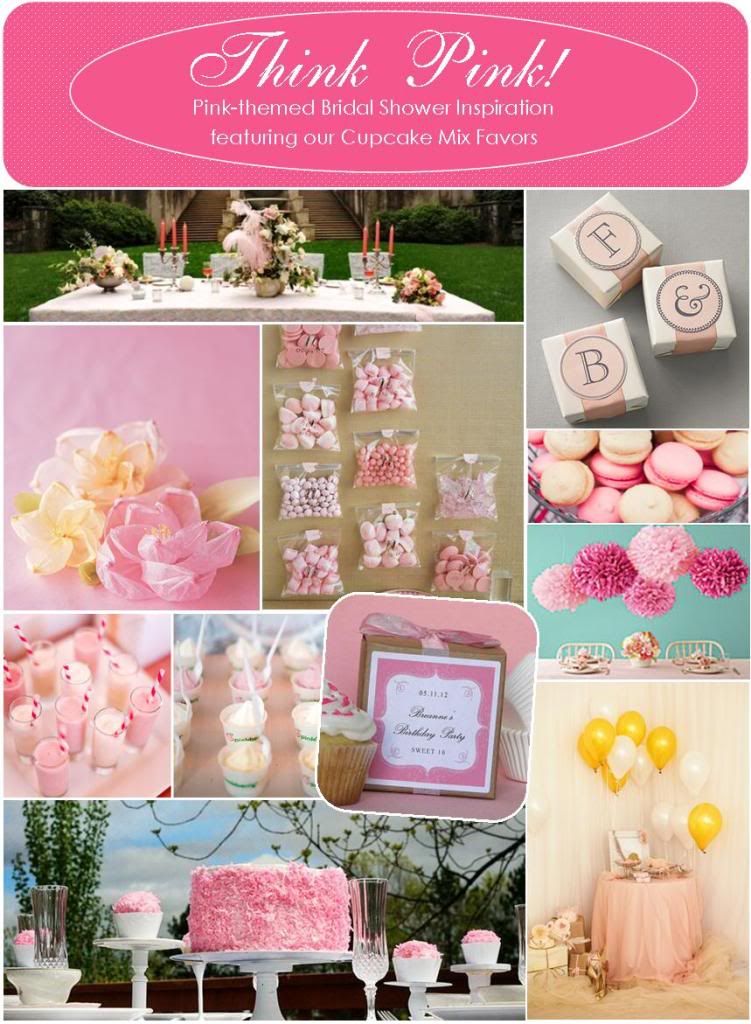 We are self-admitted Pink fans! And no, not the singer (with no disrespect!). Ever since I was little I never felt embarrassed to show my love for Pink. And since then, little has changed! Pink is a popular and almost effortless theme for those planning a Bridal Shower. Most stock colors for invitations, favor tags or printables from design blogs will run in varying shades of Pink. Our board today should inspire you to integrate this lovely hue in a new and refreshing way. Delicious smoothies, frozen yogurt and even (no, especially) cocktails can boast this delightful color. One of our favorite display ideas are clear favor bags, generously filled with pink candy. A color almost always associated with a sweet treat. Colored French Macarons are everywhere right now. Before spending money on a custom color order, do your research and see if a local bakery supplies French Macarons in pink as their standard color.
A pink themed event does not necessarily mean you have to take the Pepto-Bismol spray paint to all your decorations. It is essential to integrate a few accent colors. We love shimmering gold or even cool silver as a striking metallic contrast to a soft pink palette. Of course, Pink can function as your dominate accent color. Consider a modern white decor brought to life with the use of bright pink in the form of Coconut Icing. Our a vintage ivory theme complimented by soft pink accents. Our
Cupcake Favor Mixes
not only taste amazing, but with a personalized label they can provide a heavy dose of pleasing pink!
From hand-crafted crepe paper flowers to carefully assembled monogram favor boxes, let Pink provide the feminine, yet modern touch for your bridal shower!