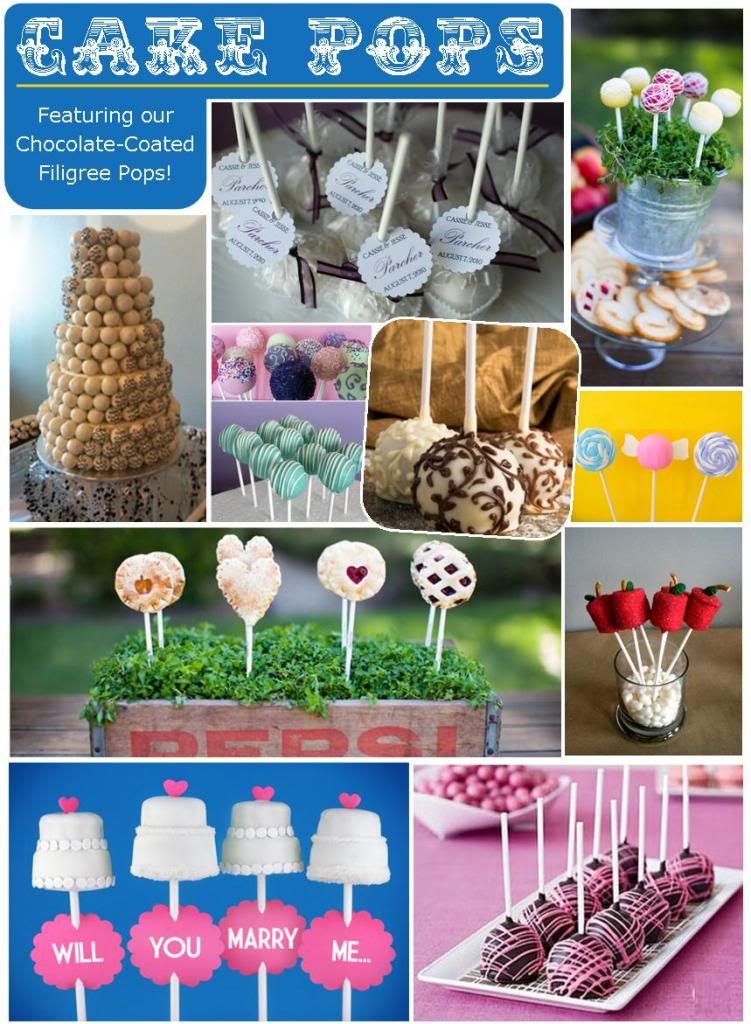 Oh how the sweet things in life make us happy! This new craze in the wedding industry goes to show that folks can't help but squeal with delight when things are presented to them "on a stick"! Take the same basic structure of wedding cake, compress it with moist richness, bathe it in luscious chocolate and decorate to your hearts content. Within a few hours you will have yourself the perfect little wedding favor. Rich and decadent, guests will be content with just one (unless they're like us!).
Our Chocolate Coated Filigree Pops are available in a devilish brownie flavor and hand-decorated to perfection! Wrapped in cellophane with a custom tag and/or personalized ribbon and your favor can be presented to guests as a tasteful memento of the evening's events.
Cake pops can stand alone or work in harmony with other sweet treats to make an eye-catching dessert bar display. This cake ball three-tiered wedding cake from Austin Cake Ball was surrounded by trays of the little beauties, lined up for guests to enjoy. Fabulous at changing disguises, these little guys can be shaped and decorated to resemble just about anything. Included in our inspiration board, are cake pops dressed as apples (with a pretzel stem! how great!), vintage-style candy and miniature wedding cakes!
And let us not neglect the real show-stopper here, Pie Pops! Coming hot off the heels of the Cake Pop trend these tasty morsels are expected to be a staple at fall and winter wedding in the coming year. Miniature versions of the real thing are baked and mounted on stick, making for a charming and impressive display. Look closely at the small Heart and Apple cut-out icons! These are truly the little details we live for! Well, that and trying a bite (or two) of each one!
Pictures (clockwise from top):
Sweet Cheeks
,
Borrowed and Blue
,
Cake Pop Shoppe
,
Fun Favors by Dulce
,
Style Collective
,
Bakerella
,
Borrowed and Bleu
,
Gracious Bridal
,
Agape Events
,
Cake Pop Shoppe
,
The Knot