It is traditional for immediate male family members and anyone directly involved in the wedding to have some kind of boutonniere. In order to maintain the freshness of the boutonniere, it is good to keep in mind what will last, especially for the wedding pictures.
Orchids are a beautiful flower, but they can become droopy when used in boutonnieres.
Calla lilies and roses tend to hold up well. There will be a lot of movement (taking pictures, hugging guests, taking jackets on and off) even before the wedding ceremony, so it is good to have something that will stay fresh. Try to steer clear of flowers with heavy pollen because it will stick to the tux and your dress.
A single flower makes a lovely statement, but flowers are not always in bloom in colder seasons. A great alternative to flowers is berries. A Berry Boutonniere adds an elegant touch and keeps it very simple. Remember, that you want the person wearing the boutonniere to be the focal point, not the beautiful mini-arrangement pinned to their lapel.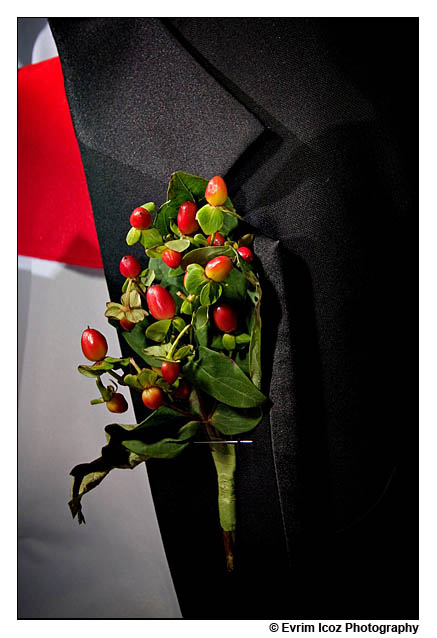 Some of the following tips may seem obvious, but on the day of the wedding you might not be thinking about it. There will be multiple designs (usually one design for the groom, one for the groomsmen/ring bearer, one for the fathers and grandfathers, one for the ushers, and any other family members), so make sure your florist labels each boutonniere. Also, make sure they are pinned on straight because it will show in the wedding pictures.