During the 19th century, American companies fought over what standard width railways should have so that all train cars could travel safely throughout the country. The good news is, the firms came to an agreement. The bad news is that no such standard was established for the undoubtedly most important type of train, the train of a wedding gown.
You may be thinking that gown trains are a thing of the past, sort of like your mother's wedding dress. But if you flip through any bridal magazine or glance in the window of a reputable bridal store, you will see that trains are a timeless wedding tradition and they can accentuate your dress in a glamorous and classic way like no other accessory can.
As with anything in the average wedding-planning experience, there is one small problem. How do you pick the right length for your dress? Like I said before, there is no golden train standard, but I can at least provide you with some help when it comes to deciphering the language of trains:
1)A sweeping train: Also known as a brush train, it is the shortest option for a train, aside from only choosing to have a floor length gown.
2)A chapel length train: This train falls from the waistline and usually is about 4 feet in length. This is the most popular length because it is traditional without being too extravagant for most women.
3)A cathedral length train: This train is made for women who will be walking down the long aisle of a cathedral type space (hence the name). As the aisle becomes longer or wider, trains grow accordingly. If your wedding will be held in a cathedral, this length won't seem too extravagant at all, but might be considered over the top for a more casual ceremony.
4)A royal train: This train is exactly what it says it is – made for royals. We have all seen pictures from Princess Diana's wedding at Westminster. If you were to look it up in a dictionary, this is the definition of a royal train.
If you are worried about seeming "old-fashioned" by having a train descending from your dress, many brides have also achieved the same look by having a train from their veil, as seen here.
This can give the illusion that your dress has a train, which may be the best option for your gown. Queen Elizabeth II clearly favored this style, as seen in her stunning veil.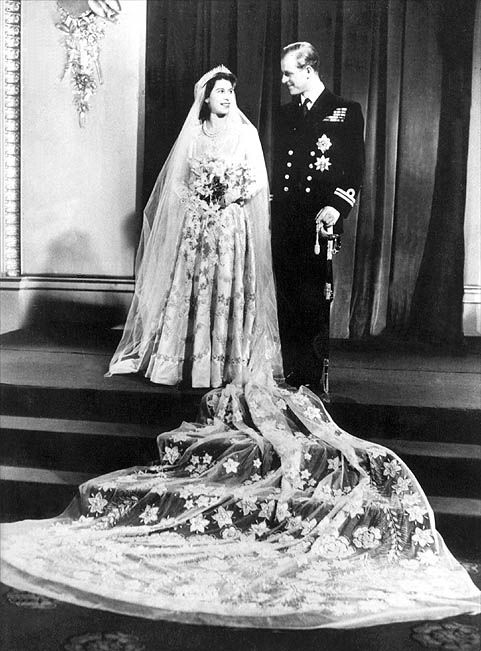 Remember that trains, in many instances, can be detached or bustled from the gown. This is a great way to see what different length trains will look like with your gown before deciding on the appropriate length for you. A detachable train will also prevent your train from being in the way as you dance at your reception!
Not every bride can claim the throne like Diana, but every girl is a princess on her special day and can wear the royal train if she chooses.