So you just got engaged – congratulations! After the excitement wears off from telling friends and family, the wedding planning process must begin. This is the day you have dreamed of since you were a little girl, but now it is a reality – with a deadline. Being organized and knowing what you want are essential to getting the job done.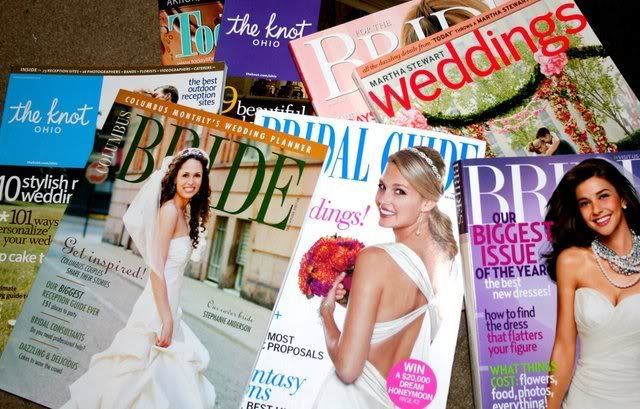 BRIDAL MAGAZINES
The first thing you want to invest in after getting engaged is bridal magazines.
A Mindy Weiss Notebook
can be used to jot down which flower arrangements, wedding dresses and favor ideas stick out to you.
The Knot
and
In Style Weddings
are great resources. Start keeping tabs on ideas that you like. When you start meeting with vendors, they can have a visual of what you are trying to accomplish. It also gives you an idea of how you want to pull everything together to make a cohesive look for your wedding.
WEDDING PLANNER
Wedding planners are also a good investment, especially if you are doing an out-of-town wedding. Most wedding planners have a group of contacts that they work closely with, so it saves you the trouble of throwing the dart, especially with key vendors. Booking them early in the process allows you do to less work and have a professional eye on your side.
When you first meet with your potential coordinator, bring your bridal magazines with the selected ideas you want for your big affair. This helps the planner get a feel of what you and your fiancé are going for.
GUEST LIST
Before you start looking at a venue and your budget, make a rough draft of your guest lists so you can see how many people you are expecting. This will affect your wedding location, as well as your catering costs. This can be a huge chunk of your budget when you have more than 100 people. This is the time to start thinking about who you and your fiancé would like to see you both taking your vows. Do you really need to invite your best friend's mom's sister's best friend?
WEDDING BINDER
The Mindy Weiss Ultimate Wedding Organizer will help you keep everything for your wedding organized. With 25 tabbed sections and a notepad for all of your questions, no detail of your dream wedding will be forgotten. This will most likely be with you at all times from now until the wedding day (and maybe a little later if you have separation anxiety). It is your baby, your pride and joy. All of you hard work will be filed away in this binder.