I believe we can reach a consensus in saying that the guests of honor at a reception are in fact, the bride and groom. If you had to choose one or the other, it's probably the bride. She's the most expensive:
Dress + Wedding Band + Engagement Ring + Hair + Make-up + SHOES!
The first dance as husband and wife is the moment we usually wait for, aside from cutting the cake. We wouldn't want to disappoint the guests with mere swaying back and forth.
Perhaps it's not an original idea, but it hit me as I watched a DVR Dancing with the Stars last night: I don't blink when people dance.
So, for the first dance as husband and wife, why not learn some sexy rumba moves or gracefully glide across the ballroom with a waltz. Christen the dance floor with class.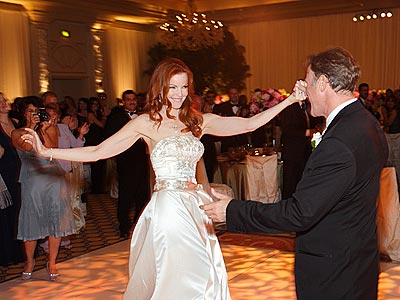 But if you can't wait for the reception to kick off your heels and start dancing, then you could always choreograph your walk down the aisle like The
Kleinz
.
You'd be surprised at how many cities are inundated with dance studios that offer wedding packages for the daring to-be-wed. The talented instructors will put together some choreography that suits the couple's personality. On one of my favorite wedding TV shows, a bride even bought a different white gown for this special dance. This is a day for celebration, so remember to just have fun!